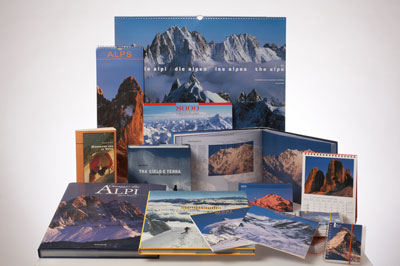 Year after year, while my photographic activity grew, my picture archive became bigger and bigger. I started to publish my photos on several magazines and I also began to collaborate on a regular basis with some monthly and weekly magazines so that I could also rely on a financial resource.
As a climber I had already exploited my picture archive using them in articles on my Himalayan journeys or giving lectures with slideshows after returning from my expeditions. To work as a photographer with the unique purpose of making reportages was another new experience, and also a very different way of conceiving my life.
My passion for photography almost silently turned itself in a new career and led me to publish five books, four photography books and an autobiographical book, which I am very fond of. I also ventured myself in the field of calendars and diaries, and for quite some time I also gave part of my pictures to a photo agency for sales of reproduction rights.
Without having a clear plan in mind – very differently from my climbing career – photography began to play a more and more relevant role both in my creative and in my daily life. What still surprises me is the fact that it is a continuously evolving universe: every day there can be new perspectives and I never feel bored. It requires a passion, a dedication and a hard work, very similar to what climbing calls for.